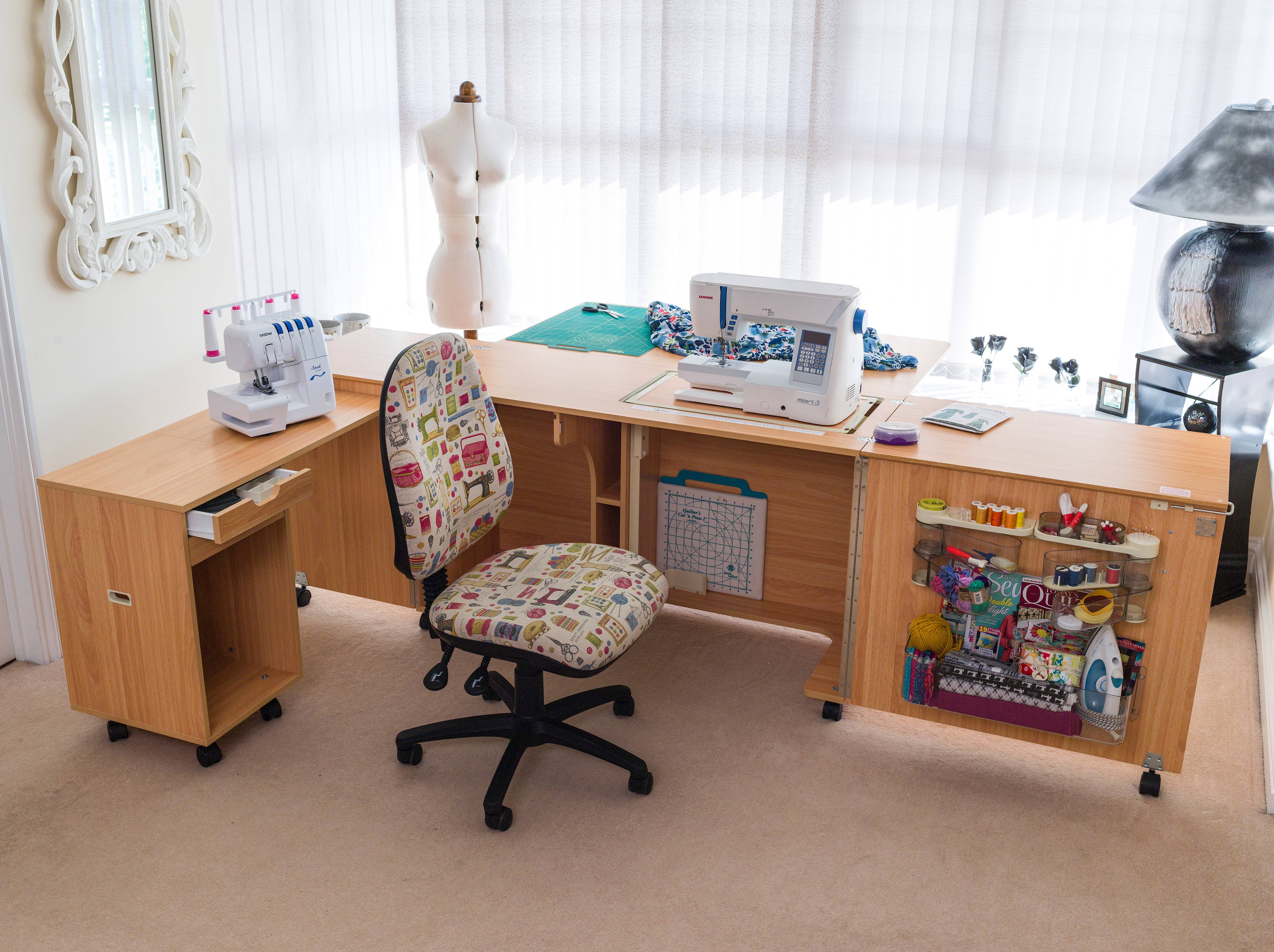 Superior Features Include
Fitted with our Maxi-lifter opening (type 1952) which is capable of taking virtually all domestic sewing machines on the market old or new!
This model arrives fitted with our 3 step push down release air-lift mechanism which means a quick push down moves your machine from storage to flatbed to free-arm positions but this unit also has the option of being fitted with our electric lifter for an extra cost.
A versatile caddy system which glides out easily and can be positioned for either close-in sewing/ embroidery or quickly expanded to a more spacious operating set up.
A huge work area at the back of the machine which prevents the needle drag that can happen with large projects. Lifts up easily when needed and down when not (so it doesn't have to be open all the time). It has a very sturdy gate leg design with Quilters/ Patchworkers in mind but is ideal for all sewing projects.
Stores both a sewing machine and an overlocker or maybe a second smaller portable workshop class machine.
Hides both your machines away in a beautiful cabinet that is lockable with a key. No one would ever know.
One acrylic flatbed inset plate cut to fit your sewing machine is included with this model.
Attractive soft formed edging finish to the tops.
Arrives fully assembled.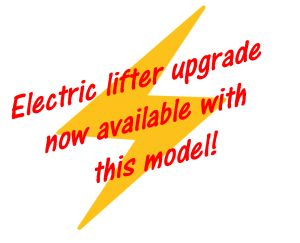 Average rating:
6 reviews
Sep 19, 2017
When my wife decided she would like a Horn Superior sewing table we could not find anywhere in our area that had them on display. I emailed Horn direct and had a reply from Angela inviting us to come and see the Superior at their warehouse in Swindon. From the day we arrived to see the Superior to get a general feel of the size and layout and ordering after the Christmas break and having it delivered I can only say that the staff are as Superior as their products the customer service, friendliness, nothing is to much trouble attitude made the whole process stress free and not forgetting to mention Jeff who delivered the cabinet and gave us a demonstration of how it all fitted together so informative and help full. If your looking for a sewing cabinet then look no further than Horn their products and customer service are second to none. Mike & Deb
Feb 27, 2015
An outstanding product matched by the service of the company
I was interested in buying a cabinet but wanted to see it first. The warehouse arranged for me to go to see them there and they spent ages showing me everything I needed to know. I couldn't have asked for better!!! Needless to say I bought one and it is the best thing I ever did. fulfils all my expectations. A great piece of kit and one I shall get pleasure from for years to come. Hereinafter christened "The Mother Ship" by my partner!
Dec 16, 2013
Not even arrived yet but am so happy with this company
Bit worried about checking the box to confirm I'm human - I've never been quite sure...............

Anyway, even BEFORE my cabinet arrives, this company is incredibly helpful and accommodating - I have no doubt whatsoever that the delivery will happen exactly as promised and that the service will prove to be amazing!!!
Apr 10, 2013
Superior
Delivery driver- very efficient. Explained set-up, knowledgeable and friendly. Asset to your company.
Feb 10, 2012
Superior
This cabinet fits in with my furniture no one would think there were 2 sewing machine in these. Also it is a quality of furniture.
Feb 8, 2012
Superior
I am over the moon with this product! It will make both sewing & crafting so much easier!!!