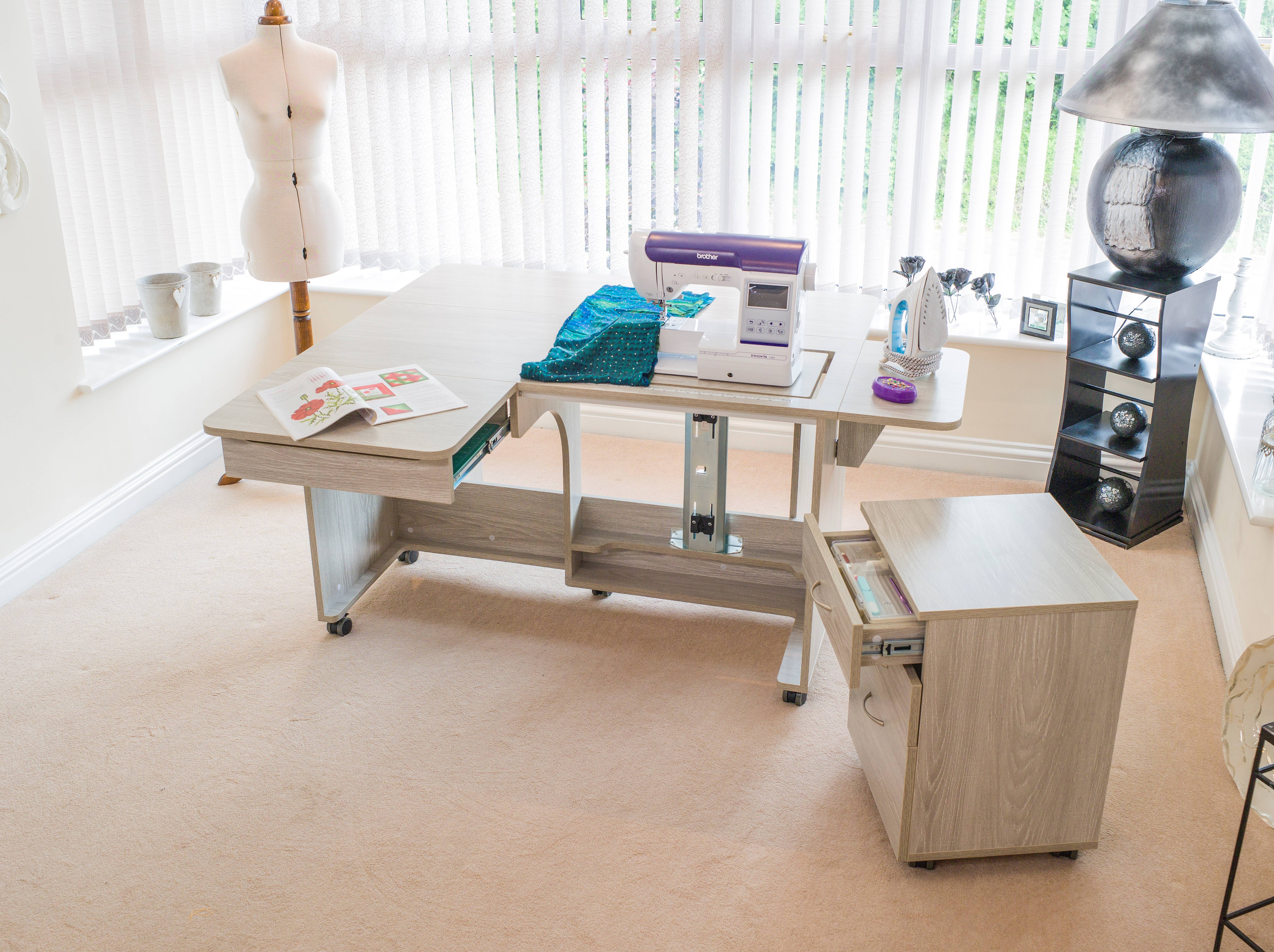 ---
Features Include
Fitted with our Maxi-lifter opening (type 1942) which is capable of taking virtually all domestic sewing machines on the market old or new!
This model arrives fitted with our 3 step push down release air-lift mechanism which means a quick push down moves your machine from storage to flatbed to free-arm positions.
A Handy set of mobile drawers are included, that can be positioned where ever is best in relation to your project at that particular time.
A large work area at the back of the machine which prevents the needle drag that can happen with large projects. It lifts up easily when needed and down when not (so it doesn't have to be open all the time). It has a very sturdy dual gate leg design with Quilters/ Patchworkers in mind but is ideal for all sewing projects.
Slot in filler for above the machine when its away. This gives you a large area to cut out, piece on etc…
One acrylic inset plate cut to fit your sewing machine is included with this model.
Arrives fully assembled.
Average rating:
9 reviews
Feb 12, 2021
Quilters Delight
After a great deal of consideration, and lots of helpful advice from Angela at Horn regarding measurements, I ordered the Horn Quilters Delight sewing unit in white which was delivered directly from Horn furniture.
The delivery driver was truly magnificent, he followed all social distance guidelines as we are currently in a lock-down situation. he carefully assembled my new sewing cabinet in an upstairs room after navigating two flights of stairs!!!!
Once completely assembled, Jeff (the delivery driver) then demonstrated the operational capacity of the unit perfectly and ensured I was completely satisfied before leaving.
I have nothing but praise for the total professionalism and dedication of the whole team at Horn from my first enquiry right through to delivery and installation of my new sewing unit
The Quilters Delight is sturdy and well built, it is easy to move on the rolling castors but these lock securely in place ready for sewing......... even when sewing at high speeds there is no vibration and the extended leaves ensure there is plenty of room for large projects, both behind and also to the left of my machine.
The storage draw unit contains one deep and two shallow drawers and there is also a small storage area on the draw extension piece where I can store all my quilting rulers so they are close at hand.
To sum up..... a wonderful product from a wonderful company........ very highly recommended!!
Thanks Tracy! Enough said! Your praise will be passed on to all concerned.From all at Horn
Jun 23, 2020
Quilter's Delight really is a delight!
I am absolutely thrilled with my Horn furniture and with the customer service from Exeter Sewing Machine Company and Horn Furniture. I ordered it during lock down and expected a 28 day delivery, but it was delivered within a couple of days so that was a lovely surprise. James wore a mask and gloves and we maintained more than 2 meters social distancing. The Quilters Delight is extremely well designed for quilting and I love it.
Wonderful news, thanks Jackie. I should say that we were lucky with the timing of your order, it came in just as we were covering your area. From all at Horn.
Apr 13, 2020
Quilters' Delight Mk2
As we were on lockdown due to the COVID-19 pandemic, Angela arranged for my table to be delivered by courier at a reasonable cost. Again because of the timing, it was delivered kerbside, but my husband and son were able to carry it into the house - luckily the room it was going in to was just inside the front door! A small part had been omitted, but it was couriered immediately without any fuss. I was so excited to receive the table and am getting used to having so much useful space to work on!
Thanks Jayne, its been a pleasure dealing with you too! Angela 🙂
Feb 24, 2020
Great installation
Hi I have taken delivery of my quilters delight and wanted to take this opportunity to say how impressed with Jeff who delivered this. He managed on his own to get this up stairs with out any help. This is very heavy cabinet. He was brilliant. Explained how to use the cabinet and set the air lifter up ready for my large brother vq2 sewing machine. I'm very satisfied with the quality and the colour of American grey oak.
Nov 29, 2017
New investment at Quilts for Dreams
I am self employed and have a very small business making quilts and this year decided on the leap of faith and a new sewing machine and cabinet. I spent 12 months deciding on the sewing machine and with help from Phil at White Rose Sewing in Harrogate I decided on the Quilters Delight horn cabinet.

The table was delivered and set up by Jeff from Horn Cabinets and it is indeed *A Quilter's Delight* The large workspace to the left of the machine makes quilting the larger quilts so much easier and the extra lift up space at the right of the machine is the ideal place to put the pot of quilting pins to be added to as the quilting progresses

The three drawer storage unit is the ideal place to keep all the sewing machine accessories and scissors and the pattern I am working on.

I have tried the table out with the machine stowed away and the table then becomes a lovely space to pin the layers of a quilt together and also to put the cutting mat on top an cut up the fabric ready to patchwork.

I am very pleased with my purchase, the service from Horn delivering and setting the table up for me.
Excellent table Excellent service and very deserving of 5 stars recommendation
Thanks for your kind and helpful feedback Valerie, I'm sure it will help others with their decision.
Sep 19, 2017
This table really lives up to its name. I was struggling to machine quilt a single size quilt top and had all sorts of props to try and take up the weight of the quilt, which was awkward and frustrating.

After purchasing the cabinet it arrived within 10 days of ordering. the driver was brilliant so helpful showing us each section of the table it seemed a huge item for one person but he clearly new his products and had it set up in no time. Mine did arrive with the wrong insert for my machine but this did not over shadow the joy of the table and the driver rang the office to have one delivered by courier. I still managed to complete my quilt with ease without it.  The driver had set it up so when the insert arrived I could just put it straight in position, so I covered the back with my quilting ruler thus giving me a flat working area.

Despite the mix up I have still given the table 5 well deserved stars it is well made very versatile brilliant and a must for all quilters.

Horn employees and office have been so approachable and helpful and I would have no hesitation in recommending this product and company to any quilter.

Thank you Horn for your help and support in choosing a product to suit my needs.
Jul 25, 2017
Excellent Customer Service QD MK2
I just wanted to say thank you very much for the excellent customer service. I needed a slight adjustment to the spacing of the insert to fit my machine and was sent a new insert with in a couple of days of my request. The table is just as described - a quilters delight. Many thanks for the prompt no-quibble service.
Jul 25, 2017
Quilters delight
This looks good . I shall think about owning one in the new year.
Aug 18, 2013
QD2
This sewing cabinet is indeed a dream. Just perfect for quilting.I have a Bernina 750 and a Pfaff Creative Performance taking it in turns to be used in this.
Delivery was a bit of a nightmare though, as I live in the far north of Scotland, out of the free delivery area, which meant the delivery was contracted out. My cabinet had been loaded onto the delivery van by forklift truck, in Inverness, then when delivered to me, had to be unpacked on the delivery van, and carried up our driveway by myself, husband and delivery driver. Worth it though, as it's just what I wanted.