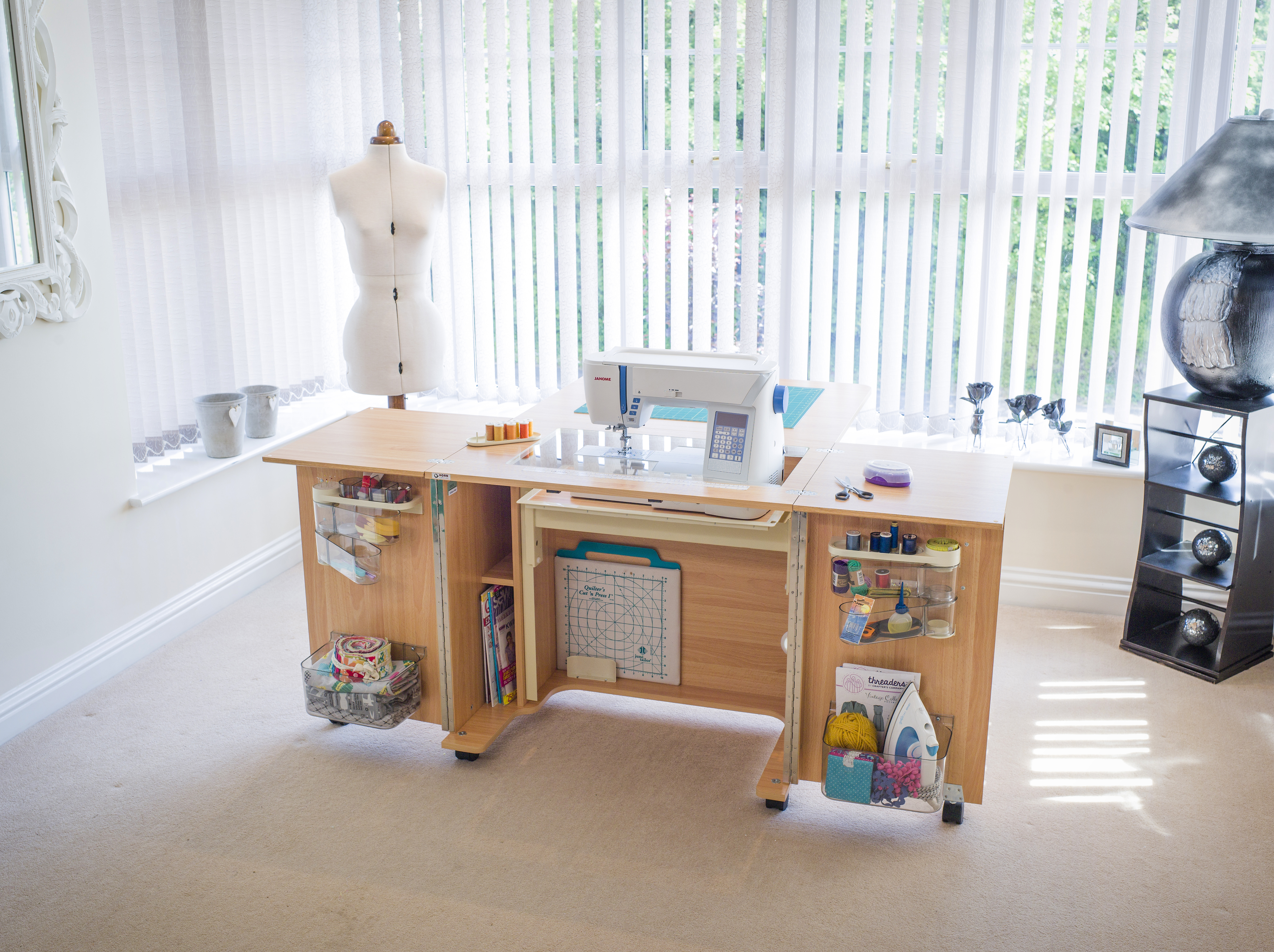 ---
Maxi Outback Features Include
Fitted with our Maxi-lifter opening (type 1952) which is capable of taking virtually all domestic sewing machines on the market old or new!
This model arrives fitted with our 3 step push down release air-lift mechanism which means a quick push down moves your machine from storage to flatbed to free-arm positions but this unit also has the option of being fitted with our electric lifter for an extra cost.
A large work area at the back of the machine which prevents the needle drag that can happen with large projects. Lifts up easily when needed and down when not (so it doesn't have to be open all the time). It has a very sturdy gate leg design with Quilters/ Patchworkers in mind but is ideal for all sewing projects.
Shut the doors and it hides your machine away in a beautiful cabinet. No one would ever know.
One acrylic flatbed inset plate cut to fit your sewing machine is included with this model.
Arrives fully assembled.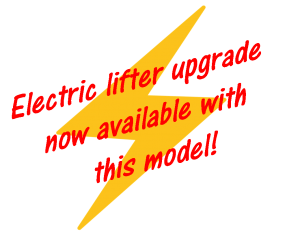 Average rating:
9 reviews
Nov 29, 2017
Horn Maxi Outback
Firstly, excellent service from Horn. Delivered and set up in agreed time frame. Beautiful looking piece of furniture in beech. 2 issues - first the power cables etc will not remain seated in the guide holes on the trim provided (these are too wide and the trim too flimsy). Provided with clips by Horn but still not suitable, so had to devise my own solution. Second problem - My Pfaff 4.2 QE was not level on the table and so the perspex inset was not level with the sewing machine making quilting with westalee rulers a major issue. There is no horizontal adjustment for the table only vertical. Problem solved by Horn, in a very timely manner, by inserting washer/shims to raise the table front and levelling achieved. A proper sideways adjuster to accommodate non level machines should be considered by Horn. Otherwise very happy with my Maxi Outback.
Thanks for your feedback Les, we'll pass on your suggestions to the factory.
Sep 19, 2017
I have a Horn Maxi Outback and I am delighted with it. The service I received from Horn Furniture was great, delivery and installation was quick and efficient.  It looks a pleasing piece of furniture as well as practical work-station.
Feb 10, 2014
Maxi Outback in Medium Oak
Fabulous piece of furniture, perfect for the Bernina 750QE. The website provided detailed information with clear drawings and all dimensions so I could work out how it would fit into my room. I ordered it at the Duxford Quilt Show in November through Sew Creative and it was delivered in December. Excellent customer service from everybody concerned. I have been using the cabinet for 10 weeks now and love it. I would recommend this to anyone, especially if they have an extended arm machine.
Aug 8, 2013
Maxi Outback
Love the insert which allows me to have a flat sewing surface.
Apr 10, 2013
Maxi Outback in Beech
Excellent Customer service. Enquiry about approximate delivery date was answered promptly and the delivery driver arrived as promised. Efficient and friendly driver and a great quality product all added up to a positive experience. 10 out of 10 all round!
Nov 19, 2012
Acrylic template for a different machine
My maxi lift was purchased in the USA several years ago. I recently purchased a new sewing machine and needed an imperial sized template for my table. Despite differences in size and manufacturer The Horn team bent over backwards to produce what I needed. I can honestly say they provided possibly the best service I have ever had from a UK company. My template - perfect!
Dear Cynthia, thank you so much for your kind words, we try so hard and comments like these make it all worth while. From all at Horn UK.
Feb 10, 2012
Outback
Very pleased- marvellous piece of furniture.
Feb 8, 2012
Maxi Outback
This product has made a great difference to my ability to work besides being a very attractive piece of furniture.
Feb 8, 2012
Maxi Outback
Customer Service excellent from White Rose Craft Centre and Horn Furniture both deciding on the cabinet and the delivery.