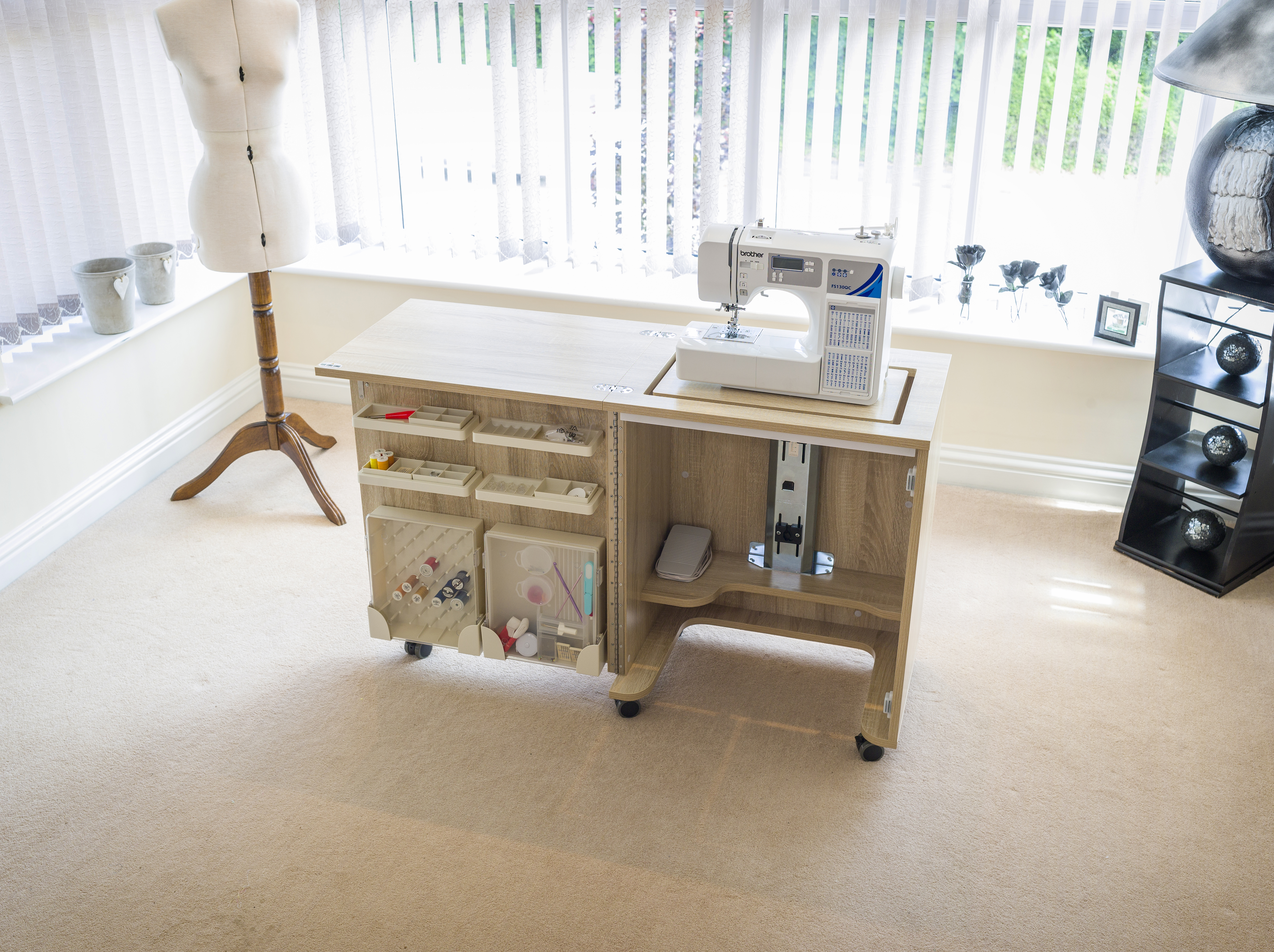 ---
Cub Plus Features Include
Fitted with our standard lifter opening (type 1927) which is capable of taking many standard, smaller or older sewing machines on the market but not all of, more particularly, the larger domestic sewing machines available today.
3 step push down release air-lift mechanism means a quick push down moves your machine from storage to flatbed to free-arm positions.
Door storage bins are recessed under the lid by means of a specially constructed angled door system this allows your fabric to drape down without catching or disturbing the door bin contents.
Shut the doors and it hides your machine away in a beautiful cabinet. No one would ever know.
Arrives fully assembled.
Average rating:
9 reviews
Mar 5, 2021
Five star product, delivery and customer service
I took delivery of my new Cub Plus cabinet on the 4th March 2021. Delivery was within three weeks of ordering. They kept me up to date with delivery details and the driver offered to make the unit up for us but we declined as this is my second Horn product and we can put it together. Assembly was very easy with the supplied instructions. It took about twenty minutes to have it in place with my Bernina 440 machine on the lift. It is a beautiful piece of furniture, very well made and was well packaged. I love the storage boxes on the door and the little trays. Absolutely nothing negative. Will be using it this weekend with the chair. Thank you so much for your great customer service. I will no doubt be back again for a bigger unit in the future (when the kids move out!).
Brilliant! Thanks for taking the time to leave this review Elaine.
Apr 22, 2020
My cabinet
I have had my cabinet for many years and from the beginning I was most impressed with it - I like all the boxes that fit in the door, the shelves around the machine when it is down - it is all very helpful storage. I was also very impressed when I took delivery of my cabinet that the delivery driver carried it upstairs for me (I would not have been able to do it) He set it all up for me, which was extremely helpful. Having not used my machine for several years today I decided to do some machining and needed to ring Horn. I spoke to a very helpful and extremely pleasant, friendly man who sorted my problem out for me immediately. This excellent Customer Service is most appreciated by me, the customer, and for me it is a major factor in deciding which companies I use and even more so which companies I would recommend and Horn is at the top of that list. Well done, and thank you
Thank you! 🙂
Apr 18, 2020
Cub Plus
I have had my Club Plus cabinet since last July. A beautiful piece of furniture. Unfortunately last week the top would not go down. Due to coronavirus outbreak there was no way a representative could come and look at it. I contacted Horn via an email and straight away I had a phone call and was helped straight away to solve the problem. Fantastic service. I would recommend them.
Thanks so much for your kind comments Norma! Enjoy using your cabinet 🙂
Dec 19, 2017
LOVE IT !
Bought my Horn Cub about 8 years ago. It's the best thing I ever did, makes sewing so much easier and effortless. Machine is always set up and ready to go.
I now want to buy a larger cabinet as I know it will be well worth every penny just for ease of use.
That's great to hear Tricia, thanks for taking the trouble to leave your feedback. I'm sure your comments will now help other to take 'the plunge'!
Sep 19, 2017
WOW! Excellent product "The Cub Plus. It makes everything a pleasure. Worth every penny!
Sep 19, 2017
Took delivery of the Club + sewing machine cabinet.  Well made cabinet, lots of fab storage and the perfect size for my compact sewing space.  Delivery was quick and I was kept up to date with delivery date & time. Jeff the delivery driver took it upstairs to our spare room where he put it together and gave us a demonstration of how to use it. He was very helpful and couldn't have been nicer.  Would recommend Horn with no hesitation.
Sep 19, 2017
I'd like to let you know that your delivery man Simon, was extremely efficient and very helpful whilst delivering my cabinet a couple of days ago.

Very happy with things.  Many thanks.
Apr 24, 2015
Great Service
Great communication from Horn. The day of delivery arrived and the driver couldn't have been more helpful. Happy to take the cabinet up yo my first floor then left him to unpack etc. showed me how it worked couldn't have been friendlier.
May 3, 2012
Cub +
Dear Sir/Madam

We must express our thanks to Horn for providing such a good delivery service for our new Cub sewing machine cabinet. Your driver was extremely helpful and professional and he assembled the pieces and pointed out how to use the various items.

It was a pleasure to deal with your company.