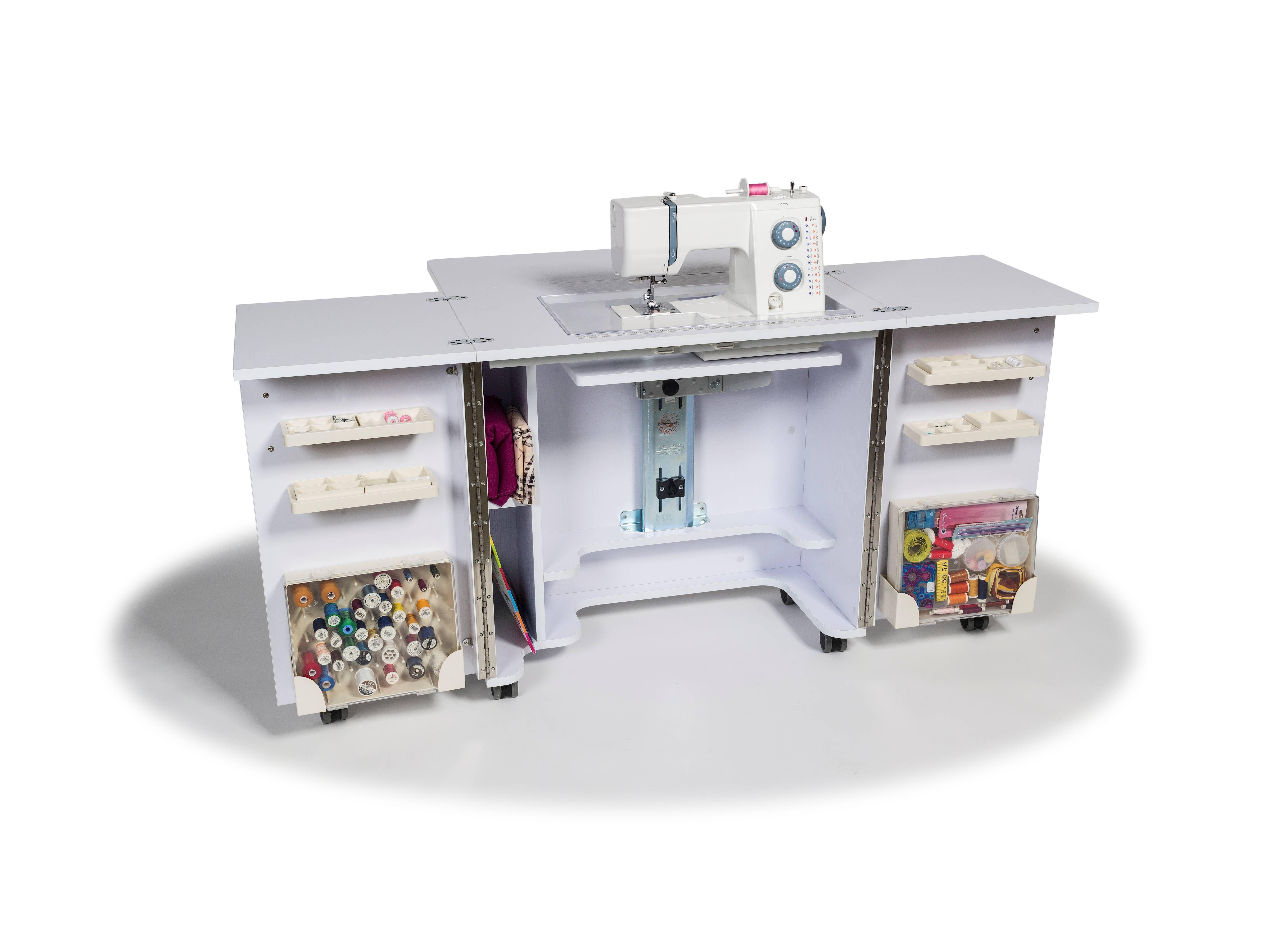 Incredibly compact when its closed only just over 2½ foot wide, which is only slightly wider than the Cub plus.
Available in 3 of our most popular finishes, Teak, Beech & White.
Handy & convenient back work surface, supported by a leg to the floor for an extra solid support. It's so compact you can easily have it in use practically all the time,
Fitted with our Longer lifter which fits virtually any domestic machine ever produced,
Strong full length door hinges.
Like the CUB plus & the Eclipse it has the excellent recessed angled doors. This adds more support for the lids, prevents draping fabric from catching on the door trays and gives far greater leg area offering you even more comfort.
7 lockable castors.
Vastly improved door storage. Like the new Cub plus there are 2 large, removable accessory cases to allow you to take your accessories with you.
A handy foot control shelf and magazine rack placed conveniently around the German made 3 step air lifter,
Chrome flush, non snag, mounted hinges.
Extra strong, sturdy construction
Insert to fit sewing machine included.
Arrives fully assembled, beautifully packed in a cardboard box.
Average rating:
3 reviews
Apr 7, 2015
Marvellous!!!
Took delivery of my Gemini unit last Thursday and must say both hub and I are really impressed with it. From the inset hinges to the way my sewing machine can be put away, and it all either folds away or extends to cope with a large quilt. Have also ordered the filler so will have even more surface. Thank you to the gentleman who had the whole thing upstairs in a matter of minutes and set it up so well. And thank you to Horn for the excellent service, so nice in this day and age.
Mar 18, 2014
What a service!!
I would like to say first I wouldn't normally do reviews, however, my husband and I were that impressed with the service provided by the horn fitter I just felt that I had to.
Where else would someone carry into an upstairs room unpack it, install then demonstrate with possibly the best customer service I have seen for a long time, and this was at 8pm!
I love the cabinet, I love the service... if your thinking of getting one don't think any more you won't find better i know I looked !... 1st class without a doubt!
Nov 19, 2012
Gemini
I bought this cabinet at one of the quilting shows, I have sewed all my life and have never had the luxury of a cabinet before and am so impressed with the quality of the the product and how neat it is when its all folded and my machine is safe inside. I have it in the spare room and the finish of the cabinet matches my other furniture.

Would have no hesitation in recommending this item or buying one from Horn again.
Thanks for taking the time to share your comments with us Linda. We think that the GEMINI is not only an ideal Sewing/ Quilting cabinet but great value too.