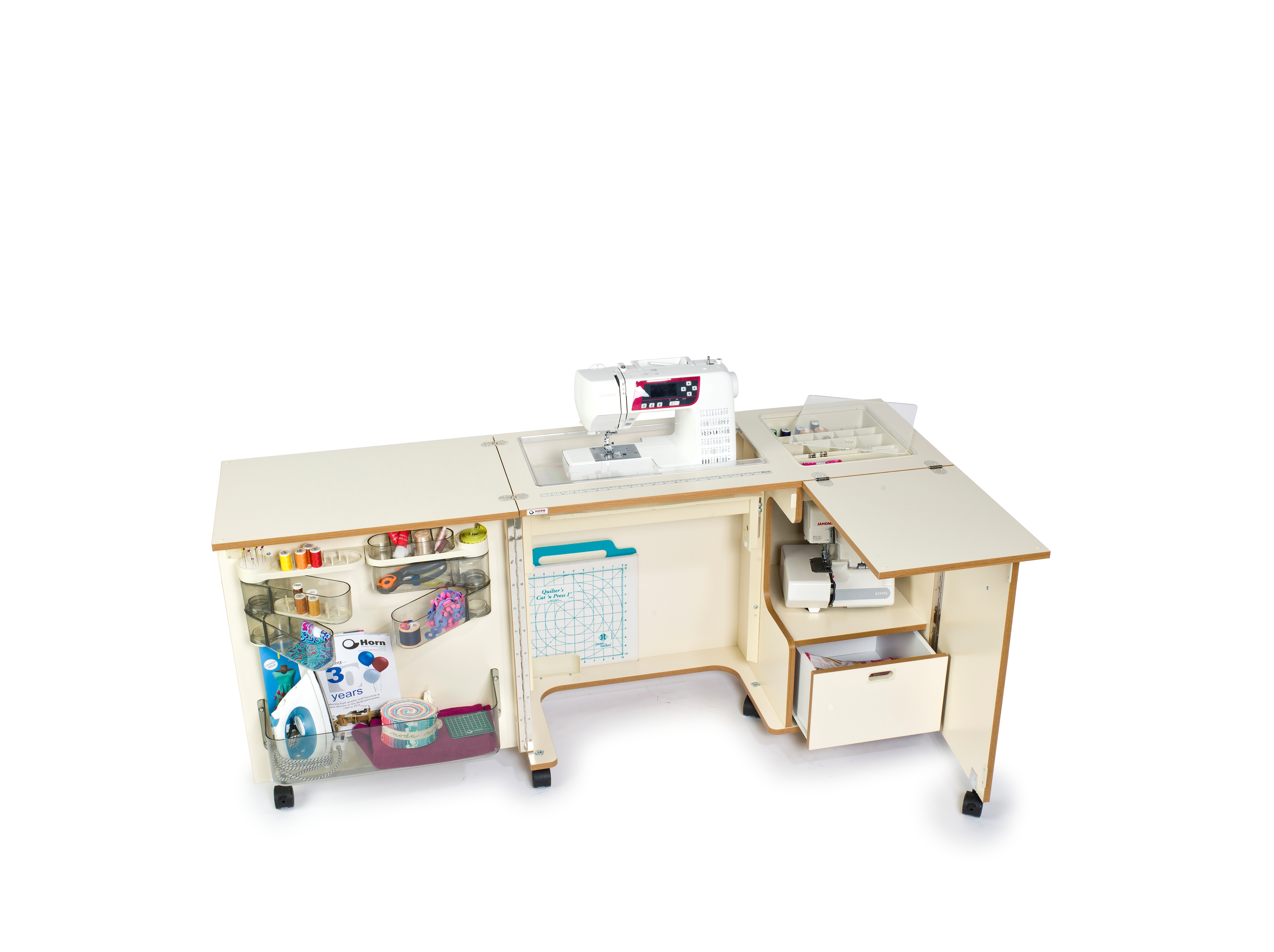 Horn Nova sewing cabinet
Work area extensions and organiser door swing open smoothly and easily lock into place.
Extra stable construction; easy-rolling castors are attached to a specially designed reinforced frame.
3 step soft-touch air lift system means a gentle push moves your machine from storage to flatbed to freearm.
Spacious see-through bins make finding thread and notions easy.
An extra deep drawer, bonus shelf, and a recessed table-top notions organiser add even more storage.
Heavy duty, no-snag, flush mount hinges prevent fabric catching.
Handy under-cabinet storage for machine insert
Entire cabinet glides closed and locks for child safety when not in use.
Delivered fully assembled as are all our cabinets.
Cabinet is beautifully finished front to back, inside and out.
The Nova 1081 is available in Teak, Beech, Light Oak, Medium Oak and White.
Average rating:
10 reviews
Jul 25, 2017
Nova
I have wanted one for a number of years because I knoew it would be ideal. I have not been disappointed
Jan 28, 2015
Just arrived and am thrilled.
My Horn Nova cabinet has just arrived and it is fantastic. The customer service from this company is second to none - everything was set up by an extremely helpful delivery drive and I have no hesitation in recommending these products to anyone.
Apr 9, 2014
Quality is remembered long after the price is forgotten
I bought my Nova as a 'back to work' reward more than 20 years ago and I still enjoy it. It seemed a lot of money at the time but I've had two sewing machines since then. Sewing on the dining table is now a hazy memory, thank goodness.
Jul 10, 2013
NOVA
So nice to have a place to keep the things I need for sewing, in 1 place instead of various areas to find them. Will save time and energy to get on with sewing- Many thanks.
Jun 22, 2013
July 2002
My husband bought me this product for my birthday in 2002 and 10 years on I am still totally thrilled every time I open it to use it. It looks as good today as it did on delivery and houses my machine and overlocker with no trouble at all. Storage is excellent (although there is NEVER enough storage in any product!!). I recommend this product to anyone who admires my own unit. You get what you pay for and this product has paid for itself over and over.
We'd really like to thank you for taking the time and trouble of giving us a long term view/ feedback of one of our products..... for any prospective buyer thinking to purchase you can't beat that!
Jun 26, 2012
Nova
I got my "Nova" yesterday to Stockholm, Sweden. What a beautiful piece of furniture, it is well designed and good quality. I will enjoy working at the table.
Good and friendly service by mail from the company. Thanks to Angela Golding!
Feb 10, 2012
Nova
I was very impressed by the appearance of the cabinet- it is good quality and I'm pleased with its practicality too. The person who delivered and installed it was excellent!
Feb 8, 2012
Nova
It would be nice to have had the option of a table on the back of the Nova like the Eclipse.
Feb 8, 2012
Nova
Very pleased with the product. Ticks all the boxes; excellent delivery service and advice. Very good looking piece of furniture.
Feb 8, 2012
Nova
I feel that it is a well designed piece of 'equipment' which will make my life easier and allow me to use my machine in an instant rather than getting them from the cupboard setting them up and tidying them away etc... Whilst creating a smart piece of furniture in my conservatory. I only wish I'd bought one years ago!