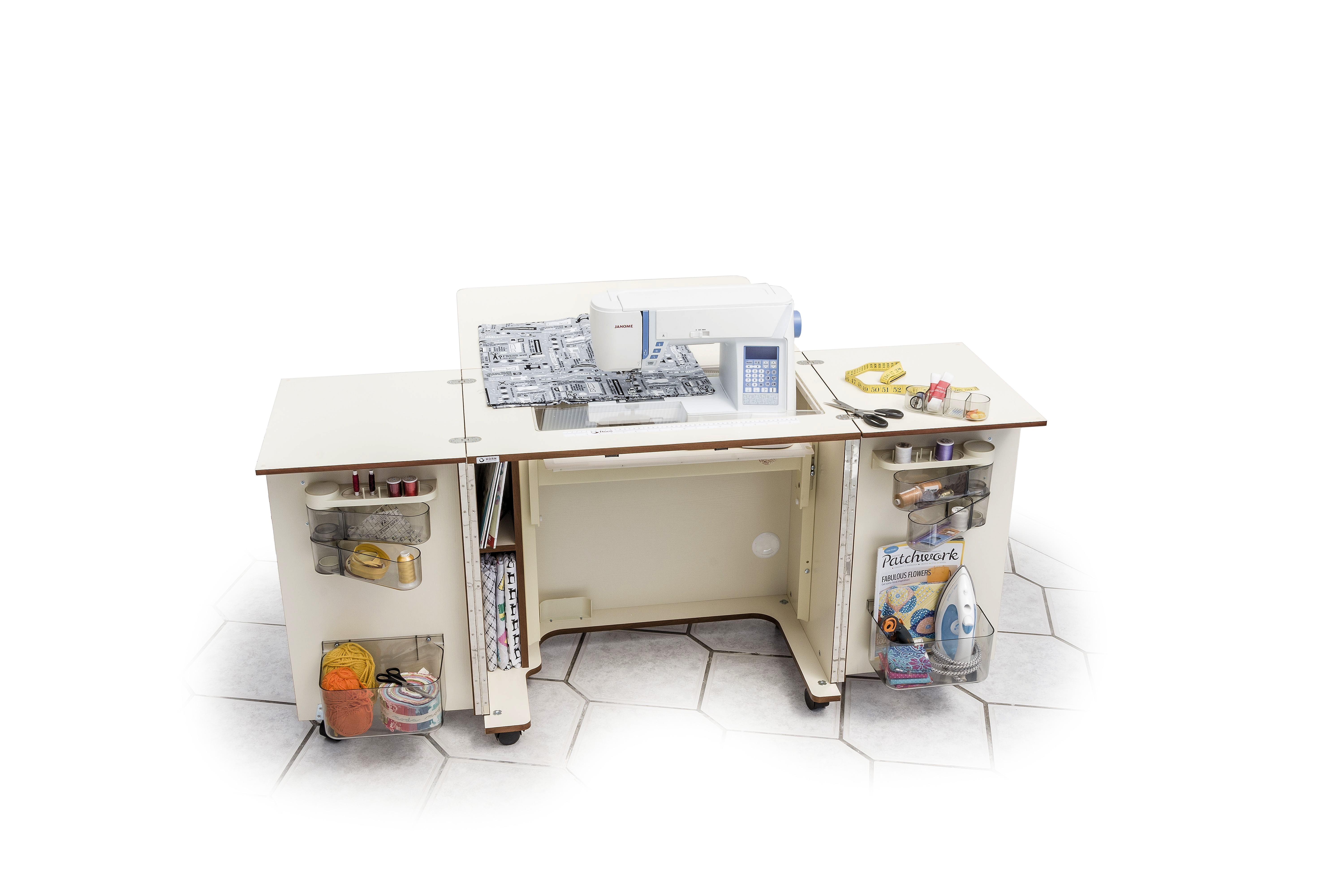 Maxi Outback Features Include
NOW WITH THE MAXI LIFTER!!
Centre of the needle sitting position, allows you to be directly in front of the needle when sewing.
Extra stable, open base construction;
7 easy rolling castors, are attached to a specially designed reinforced frame.
3 step Soft- touch air lift system means a gentle push moves your machine from storage to flatbed to free-arm positions and will fit virtually all domestic sewing machines on the market old or new!
Spacious, see through door bins are recessed under the lid by means of a specially constructed angled door system this allows your fabric to drape down without catching or disturbing the door bin contents. Also a handy magazine compartment with dividing shelf which adds even more storage.
The work surface is fitted with flush mounted non snag hinges.
Large work area at the back of the machine. Lifts up easily when needed and down when not (so it doesn't have to be open all the time).
It has a very sturdy gate leg design with Quilters/Patchworkers in mind but is ideal for all sewing projects.
Handy storage holder for your machine insert.
Attractive soft formed bevelled edging finish to the tops
Comes fully assembled, the cabinet is beautifully finished front to back, inside and out.
Closed the Outback 1052 is 83.5cm wide, 56cm deep and 76.0cm high-Opened the worksurface is 165cm wide and the depth with the extra workspace in place at the back is 115.5cm.
Available in Beech & Teak with beautifully finished soft formed edges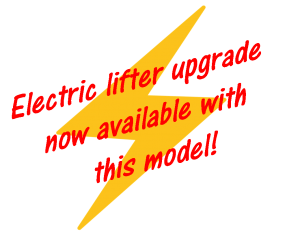 Average rating:
7 reviews
Feb 10, 2014
Maxi Outback in Medium Oak
Fabulous piece of furniture, perfect for the Bernina 750QE. The website provided detailed information with clear drawings and all dimensions so I could work out how it would fit into my room. I ordered it at the Duxford Quilt Show in November through Sew Creative and it was delivered in December. Excellent customer service from everybody concerned. I have been using the cabinet for 10 weeks now and love it. I would recommend this to anyone, especially if they have an extended arm machine.
Aug 8, 2013
Maxi Outback
Love the insert which allows me to have a flat sewing surface.
Apr 10, 2013
Maxi Outback in Beech
Excellent Customer service. Enquiry about approximate delivery date was answered promptly and the delivery driver arrived as promised. Efficient and friendly driver and a great quality product all added up to a positive experience. 10 out of 10 all round!
Nov 19, 2012
Acrylic template for a different machine
My maxi lift was purchased in the USA several years ago. I recently purchased a new sewing machine and needed an imperial sized template for my table. Despite differences in size and manufacturer The Horn team bent over backwards to produce what I needed. I can honestly say they provided possibly the best service I have ever had from a UK company. My template - perfect!
Dear Cynthia, thank you so much for your kind words, we try so hard and comments like these make it all worth while. From all at Horn UK.
Feb 10, 2012
Outback
Very pleased- marvellous piece of furniture.
Feb 8, 2012
Maxi Outback
This product has made a great difference to my ability to work besides being a very attractive piece of furniture.
Feb 8, 2012
Maxi Outback
Customer Service excellent from White Rose Craft Centre and Horn Furniture both deciding on the cabinet and the delivery.